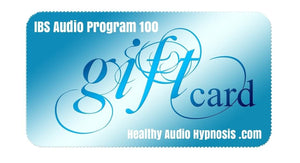 Buy a Gift Card from Healthy Audio Hypnosis for the 'IBS Audio Program 100'. 
Buying a gift card shows you have taken the time to consider the person you are buying the gift card for. Making the gift extra special. 
Giving the gift of good health is a gift that can last a lifetime and will be remembered as extra special!
Give someone you know or love a chance to live life more fully, more relaxed and more confidently.  This structured, tried and trusted IBS Audio Program 100 is used by IBS sufferers worldwide. Click this link to see lots more information and testimonials from users. 
Any opportunity to embrace change and manage IBS better is always special.  
Available in MP3 Download or Streamed Versions.
Buy a Gift Card from Healthy Audio Hypnosis.
The IBS Audio Program 100 
The IBS Audio Program 100 has been used worldwide by Irritable Bowel Syndrome sufferers since 1998.
Consequently it is tried and trusted. Also, it was eight years in the making, thereby giving users the best OPSIM structured, interlinked program there is! 
 Unlike Gift vouchers - our Gift Cards leave a balance if the spend is not made all at once, leaving the balance to be used later!
What a great way to give the Gift of Good Health. Statistically
1 in 5 of the people we know will have IBS (irritable bowel syndrome)  
1 in 5 of the people we know will have anxiety.
30% will have insomnia.
75-90% of Americans will have a Stress-related condition.
We have audio programs for all the above and more.  
Including:
Confidence & Self Esteem

Emotional Renewal

Emotional Recovery After Breast Cancer

Irritable Bowel Syndrome in Children

Burnout

Osteoarthritis
Gift cards are emailed and contain instructions to redeem them at checkout.
No price can be put on the health, happiness, and general Quality of Life of those you love and care about.  
Giving one of our Gift Cards will remain a gift in the memory of the person you sent it to for many years.  
It's thoughtful and practical. It shows you have thought carefully about the individual you are purchasing it for, it's different, and it will last much longer than a bottle of perfume, a pair of socks, a necktie or a scarf!
We look forward to helping you help someone special in your life.
The Buy A Gift Card - 'IBS Audio Program 100' Gift Card is the yin, to your yang. You've found what you're looking for.

Inventory Last Updated: Dec 08, 2023