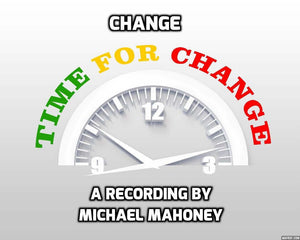 Some people see change as a threat...
rather than an opportunity. Change is all around us. We see it in the weather, our gardens, our children and our partners.
And sometimes change is thrust upon us, as in the 2020 pandemic and its after-effects.  Everyone reading this will have been affected in some way by the pandemic, but not all are negative effects.
For many, the lockdown has led to thinking differently, learning new skills, looking at new possibilities in employment or self-employment, and creating a new drive and determination to be more.
The desire for change is a massive motivator to get things accomplished; however, sometimes, it needs some help to get started. This recording is an aid for those who want or are thinking of making positive changes in their life.


Listen to a sound clip of the track. Click here.
The full track is approx 17.1 MB and approx 19:19 secs in length.
(Session commences after safe listening suggestions)
By using this recording you agree to terms and conditions of use.
Full T&Cs of use can be viewed here
Every product is unique, just like you. If you're looking for a product that fits the mold of your life, the Single track - Change is for you.

Inventory Last Updated: Dec 02, 2023