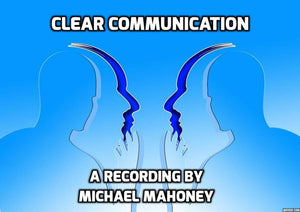 We are aware clear communication is important in life...
but what about inner communication, communication between mind and body?
Wouldn't our lives be better if our inner communication was sharper and easier? This recording explores and suggests ways to allow this to happen.

Listen to a sound clip of the track
Click here
The full track is approx 22 MB and approx 24:06 s in length
 Suggested listening once a day for 5-10 days and then once a day as preferred.
Disclaimer: Like all hypnosis recordings, this product is not suitable for those with epilepsy, schizophrenia or any personality disorder. Use only in a safe environment. Consult with your medical professional before use if in any doubt of its suitability for your particular health circumstances.  The user takes responsibility for all outcomes; results may vary. 
(Session commences after safe listening suggestions)
By using this recording, you agree to terms and conditions of use. 
Full T&Cs of use can be viewed here.
The Single track - Clear Communication is evocative, to say the least, but that's why you're drawn to it in the first place.

Inventory Last Updated: Dec 02, 2023