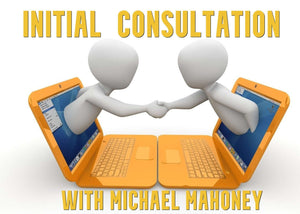 Working with Michael Mahoney in one-to-one sessions via Zoom can often lead to improved quality of life. Many people have said the initial consultation helped them understand and clarify matters. 
Do you have a problem you want to discuss confidentially?
Have a worry or concern that you could do with some help?
Initial consultation with Michael Mahoney
Do you want easy access to someone with years of in-practice experience?

You will be listened to and never judged.

Michael will fully respect

 thoughts, feelings, emotions, fears, or worries.  
That is only part of what you receive. In addition to the polite respect you rightly expect,  Michael will also ask questions to learn more and help you by suggesting considerations and options of choice.  f you only want a listening ear, that's fine; if you want feedback, that's fine too.
Michael has spent his whole working life helping and supporting people who need it; it is second nature to him. Michael has practised for 37 years, while his audio programs help in 45+ countries. So working one-to-one with Michael is not just an hour chat; it comes with many years of experience.
If this is the support you want, you have come to the right place.  
Initial Consultation with Michael Mahoney
Whatever the problem, if it affects your life, it is serious, let Michael help you to help yourself!
It doesn't matter if it sounds silly, embarrassing, or seems trivial; none of that matters; what does matter is that you do something about it.
Here is an opportunity to work with Michael Mahoney, the author of all our programs on this site. He has over 37a years of practice experience, with 27 years in Primary and Secondary care environments. He is a multiple innovation and research award winner too.
When you need extra help, work through a worry or concern in a confidential, confidential, judgement way.
If longer-term help is needed, alternatively, one-to-one sessions and audio recordings can be provided. Michael is, as they say, your man!
Michael is familiar with providing support in mind, body and emotion and consequently has built a reputation among medical and health professionals who referred their patients to him. Additionally, he receives many word-of-mouth referrals. 
This initial consultation is about you, finding out more about you and the problems you are facing, it can be just a one-off session, and this is what this first session is. 
After that, if you decide later on that, you want to proceed into an in-depth approach, where every resource, experience and skill of Michaels, including MP3 recordings being sent to you, will help you resolve your presenting issues.
When you purchase these services, you will need to do the following:
Complete the form(s) links included in the download you receive
When completed - (sign the form and click, and it gets sent digitally)
We will contact you by email within two working days, if not sooner, to arrange your meeting.
Easy!
The Initial Consultation / Session with Michael Mahoney destined to impress, and priced at only R$ 598,00, for a limited time.

Inventory Last Updated: Dec 08, 2023