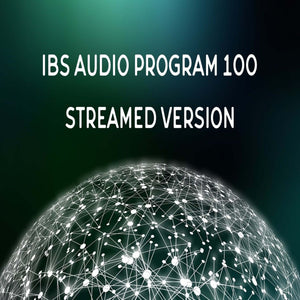 IBS Audio Program 100 
SALE ON TODAY
Please note: This is the

DAILY streamed version

of the IBS Audio Program 100 -

you are unable to download it.

   If you prefer to download it - Click here for the MP3 version
DAILY STREAMED, get your first downloads, and in 24-hour intervals, get your daily link sent to you every day until the entire 100 days are completed.
Would you rather have access immediately and manually manage the schedule? Click here
You have 365 days of use. Enough for listening to the whole program 3x if you wanted! And there is time to listen to your favourite tracks in between, too! 
I want to thank you for your IBS 100 program which I completed recently. I am so delighted with how effective the course has been for me, & how different my days are as a result. Only someone who has lived the daily grind of uncertainty that IBS brings can know the sense of relief & optimism that comes as a result of having a body that works well again. It was worth persevering. I am really grateful.

EF, Wiltshire UK 22 Nov 2022
Since 1998 our IBS treatment system has been helping IBS sufferers around the world - in over 45 countries. To us, there is no 'IT'S ONLY IBS'.

Michael Mahoney the author of the IBS Audio Program 100 for adults, and the IBS Audio Program 60 for children has worked tirelessly since 1991 to develop a realistic alternative treatment option to the problems brought by IBS.
That meant, developing an alternative treatment program for:
the physical pain,

bloating,

constipation,

diarrhoea,

gas,

cramping,

nausea etc, wasn't enough! 
Michael also developed the program with a view to helping alleviate the emotional aspects of IBS also,
the drop in confidence,

the reduced self-esteem,

the increased anxiety,

poor sleeping,  and more.
This program took many years to develop, test, trial, and bring to market. No wonder it is the leading program of its kind, tried, trusted, and tested.

When you know you have had enough of the suffering, and you have tried everything else, then try this IBS program, you may quickly become one of the many thousands of users who say " I wish I had done this years ago".
This is the Streamed Version - Files are sent to your smart device - or desktop.
Irritable Bowel Syndrome Program Structure:
The IBS Audio Program 100™ is structured over 100 days, with a listening schedule for each day (including days off).

The IBS Audio Program 100™ contains an introduction and five different interlinking hypnotherapy sessions, each building on the preceding one. Sessions vary in duration but average 25-35 minutes.
The program also includes:
a progress log

symptom checklist, and,

other valuable irritable bowel syndrome information.
All that is required for participation is to find a time each day when you can listen quietly and be undisturbed. Simply fit your listening time into your daily schedule at your own convenience.

The commentary introduction and five therapeutic sessions found in the program are as follows:


Commentary Introduction:



This provides detailed information about hypnotherapy, the specific process being used for the audio treatments, and irritable bowel syndrome information.


Acknowledges the physical and psychological combination that characterizes IBS pathology, triggers, and symptoms.

Aims to treat both IBS and the problems in a person's life that have resulted from IBS, including anxiety, social fears, depression, fatigue, and worry.

Sets a stopping point for the emotional drain of IBS; effectively saying 'this is as bad as it gets', from this point on IBS symptoms will not progress, as the listener learns and works to improve their understanding and control of mind and body.

Subconscious begins to be affected and positive physical changes should be expected.

Emphasis on the safe, gentle, non-invasive aspects of IBS therapy and its record as a safe form of IBS treatment for many conditions for many years.
Irritable Bowel Syndrome Program Session Structure.
 First Session:
The foundation session. It allows listeners to take the time to reduce their stresses and apprehensions, become familiar with the hypnotherapy process, and to re-learn that they are in control at all times.

It offers a gentle introduction to reduce anxieties and emphasis calming thoughts, thus reducing the negative thought patterns which trigger IBS physical responses.

It helps manage IBS symptoms and lets users begin to understand the benefits of allowing both mind and body to work together towards their goals.


Second Session:
It begins to address the subconscious and conscious thoughts that can trigger IBS symptoms.

Teaches users, through creative imagery, to exercise control over these thoughts.

Uses the power of suggestion to enable listeners to learn to control the speed of peristaltic waves of the GI tract, leading to normal bowel movements.

Uses the mind to regulate the body.
Third Session
Uses visualization to control the entire digestive process, from start to finish.

It begins to allow the user to take control and mentally search for areas within the GI tract where there is IBS pain or discomfort, and then reduce these symptoms while continuing to use positive thoughts.

Negative thoughts decrease and are replaced by positive thoughts, which will help develop new coping strategies.
Fourth Session:
Uses metaphors to help view the journey through IBS as a trip that is nearing an end.

Acknowledges the struggles of the past, the many steps the journey has required, and that while there may be a step back occasionally the progression forward will remain.

Acknowledges old thought patterns and allows them to be released; enhances positive thought patterns to achieve continued

improvement.

Emphasizes that while memories of old thought patterns may remain, we don't live in the past. We live in the moment.

From this moment on IBS will steadily improve, a sense of order has been reached, and progress will now continue on its own.


Fifth Session:
Encapsulates positive moments from the five previous sections of the program.

Reaffirms the effects of the program.

Listeners are encouraged to review this session occasionally after the program ends to optimize their positive changes.
This message is for Michael Mahoney. I can not thank you enough for this IBS series. It is effective, thoughtful, sensitive and caring. I can feel the kindness, the empathy and the knowledge of the IBS condition that you so eloquently portray.
I have already used what I've learned one day when I started to feel some GI disturbance and diaphoresis that typically signal a 'flare up'. I repeated some of the suggestions and 'talked myself' into a calm state with complete resolution!!!
I look forward to each evening session and I must admit I do fall asleep halfway through on occasion and on those days that I must skip my session according to the schedule, I miss it. Again, many thanks for this incredible product.
Gratefully,
Frances USA
18 June 2022
The content and listening order of the sessions are both important. The IBS Audio Program 100 gives the IBS sufferer the structure necessary to allow a progression to the ending of many presenting IBS symptoms in their lives.

After the program is concluded, patients are encouraged to listen to the final session for an additional period to ensure the learned processes are embedded in their subconscious.
This streamed version will be available to you for 365 days from day one giving you plenty of time to re-listen to the program if and when you wish to. 

The program is successful for many users in reducing or even eliminating the presenting symptoms altogether and often also leads to a reduction in the severity of presenting symptoms. As we are all different, outcomes and time frames may vary.  
Patience is also required!

Don't try and rush it!  

The program will guide you through as it has with many thousands of previous users. 

Please have your symptoms diagnosed by a Gastroenterologist or physician before starting the IBS Audio Program 100™ It is important to remember that you cannot self-diagnose IBS and there are many serious conditions that have symptoms similar to IBS. Outcomes may vary from user to user. 
Listen to the sound clips and read the reviews below
IBS Audio Program 100 in 45 seconds:
The only clinical hypnotherapy treatment resource using the OPSIM™ method (structured listening developed specifically for this and other full programs).

Developed specifically for physical symptoms of IBS & also the emotional aspects too!

Alleviated symptoms of tens of thousands of IBS patients resistant to conventional medical IBS treatments.

Clinical trials for over 20 IBS symptoms with three-year follow-up results show continual ongoing improvement after completion of the Program. Also, in-situ unsolicited testimonials verifying program effectiveness outside of the hospital or therapeutic rooms. 

Use in the safety and comfort of your own home. No travel, appointments, traffic, or embarrassment.

Cost-effective: SAVE £, $, €, ¥! comparable to less than one session of private IBS therapy.

Our IBS Audio Program 100 can be used alongside other IBS treatment methods or used stand-alone. Often used when all other treatment options have proved disappointing.

The American Gastroenterological Association has approved the use of clinical hypnotherapy as an IBS treatment method since 1996.

In the UK clinical hypnotherapy has been used as a successful IBS treatment method for over 30 years. Our program has 22 years of online success, and 25 years of success in Michael's practice.

Available in convenient, discreet, environmentally friendly packaging, or by immediate MP3 download format.    

Since the Brexit process began - exchange rates are best for 30 years - your dollar gets more!!                               
IBS Audio Program 100 Reviews 2011 to 2015       1999-2001  2002-2003
Sound Clip   Introduction
Sound Clips Session 1    Session 2     Session 3    Session 4    Session 5
If you are still not convinced
-------------------------------------------------------------------------------------------------------------------
Endorsement From Jeffrey Roberts,  August 1, 2008, For the IBS Audio Program 100®
Jeffrey Roberts, founder of the IBS Association as featured, on the IBS Self Help and Support Group website, www.ibsgroup.org, Michael Mahoney's IBS Audio Program 100®  Roberts comments that "Sufferers continue to see this type of clinically proven technique as an affordable and safe way to alleviate and control the most troubling symptoms of IBS.  The IBS Audio Program 100® has a great deal of clinical evidence to support its use and we consider it as a primary tool to help sufferers."
-------------------------------------------------------------------------------------------------------------------
And if you are still not convinced
then bookmark this page, try whatever other options you feel necessary, and when you think the time is eventually right, please revisit us. Our intention is never to hard sell!
Our IBS Audio Program 100 is often imitated but never beaten!  We have a reputation for excellent products, good service and bringing innovative affordable products to market.
Get your Program at our

 

Sale price today!
Like many streaming services fair usage limits apply.
The IBS Audio Program 100 - Daily Streamed - English destined to impress, and priced at only $59.00, for a limited time.

Inventory Last Updated: Dec 08, 2023