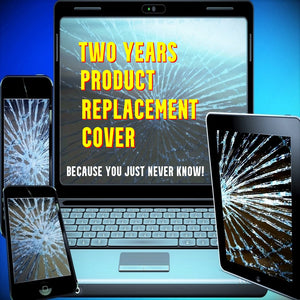 Product Replacement Cover for MP3 Programs
Our Product Replacement Cover for MP3 Programs has been introduced to help when technology fails, or human error occurs. Customers asked us for a download cover, and here is our Product Replacement Cover.
Imagine your frustration; you've downloaded your audio program and are halfway through your listening schedule and ...
your computer crashes, or
gets a virus or
your existing backup system fails, or
your device is stolen,
dropped or
damaged with spilt coffee or
affected by a power surge or
any of the other many issues could corrupt your device and your programs.
We have heard them all over the years, and it can be expensive to fix, however ...
Sale on: Use code 

PRC22  at checkout to qualify for two years cover for only £22.00
Product Replacement Cover
We can remove the hassle and frustration of getting your Healthy Audio Hypnosis programs back; they do not have to be lost through corruption, virus or any other unforeseen problems, which are all real possibilities. 
Responding to requests from our customers who have had the bitter and expensive taste of what can happen when things go wrong, we have introduced our Product Replacement Cover for our downloaded programs.
Only available for MP3 Downloaded Products
You have invested in yourself and your future by purchasing your Healthy Audio Hypnosis programs. 
Avoid disaster; let us remove the worry with our Product Replacement Cover. Because accidents happen, and theft, viruses and damage. However, our Product Replacement Cover will cover your Healthy Audio Hypnosis MP3 programs, protecting your investment and giving you peace of mind.
We can resend your covered programs easily and quickly without fuss or bother; what a relief!
Product Replacement Cover for MP3 Programs does away with all concerns about any of the above or other situations which could corrupt your audio files from Healthy Audio Hypnosis.
 MP3 Downloads Protection 
For a fee of £40.00 for two years of protection worth up to £225.00

We can resend your files to you for the program covered.

There are, however, a few conditions that have to be met and understood.
They are:
This service protects your purchase for two years from the date of purchase.

We will send your files to the email address you used to purchase your program. No other email address will qualify for this service.

We provide cover for up to three (3) downloads per program per 2 years

Each downloaded program requires a separate Product Replacement Cover and payment. 

Once purchased, it will run for two years, giving you peace of mind!

After that, you can renew for another two years, despite making any claims previously. Suppose you need the files re-sending to you - accidents, technology crashes, and thefts happen! We are here to help.
 IMPORTANT: Not available for Streamed Programs
The Product Replacement Cover - For MP3 Downloads destined to impress, and priced at only $84.00, for a limited time.

Inventory Last Updated: Dec 08, 2023