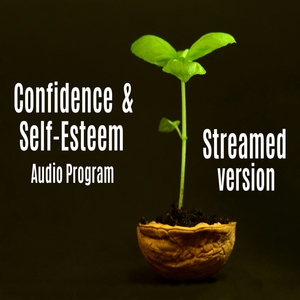 Confidence & Self-Esteem Program
SALE ON TODAY

 This streamed version delivers your links each day to your PC/device every 24 hours until the program is completed.
Have you been hit hard in life – perhaps a job loss, serious illness, or other negative life events?
Do you feel hopeless, worthless, each day seeming a trudge?
Do you feel empty, alone, despondent?
Are you unhappy, or do you fail to find happiness in things you once did?
Building confidence and self-esteem are done by learning, doing, and understanding. Our confidence and self-esteem hypnosis audio program contains
Eight x sessions 
a bonus music track, and
a listening schedule (PDF).
Structured listening over eight sessions.

In these demanding times, confidence is key to reducing worry, seeing new opportunities and generally feeling in control of your life.  Start today!
When you need help and are looking at building confidence in yourself and your abilities, think about this audio program. If you are not ready, bookmark us and come back. (we can't say the same or any discount will be here, but the program will be!)
We don't hard sell or pressure you; we want you to develop and grow your confidence and self-esteem so you can make the very most of your life.  
Confidence and self-esteem are fragile, so they must be constantly grown and protected.  Our structured and gentle hypnosis processes from a therapist in practice since 1986, who still works with patients.
Experience is a serious consideration when choosing your program.   Ideal for those whose confidence and self-belief system have been eroded over time or are being challenged by the behaviour of others in work or college.
Sound clips:  Session 1      Session 2     Session 3    Session 4     
                        Session 6      Session 7     Session 8    Session 9
Product Description
How to build confidence … is a question we are often asked. Michael Mahoney a medical centre-based clinical hypnotherapist decided to develop this audio program which would guide listeners in how to build confidence in themselves and in their life generally.
How to build confidence and self-esteem
As you learn how to build confidence you will notice too that your self-esteem grows, and that is a key motivator.
So you gradually become more aware of your growing confidence, and as you do you want to do more, and as you do more your confidence will grow further and an upward positive spiral is created.
This is how we learn, and our audio program is structured using our unique Ongoing Progressive Session Induction Method or OPSIM for short, to encourage this deeper learning.
The short answer to how to build confidence is one of structure, learning, and understanding. Our program helps and encourages you in a structured, gentle way.
Easy, gentle, and enjoyable, start your journey to better confidence and self-esteem today.
Accompanying this program is a suggested listening schedule this is included for information only since the Streamed version of this program automatically sends the correct recording link to your smart device each day of the program.  
It is a specific OPSIM (Ongoing progressive session induction method) listing protocol for this recording to help the listener make the most of this recording. Sessions are listened to several times, revisited at key times in the program, and generally encourage the learning process of human understanding.
Start the journey of being more confident today in just a few clicks!
Get your program at a sale price today!
The Confidence & Self-Esteem Support Program - Streamed Version is the yin, to your yang. You've found what you're looking for.

Inventory Last Updated: Dec 04, 2023