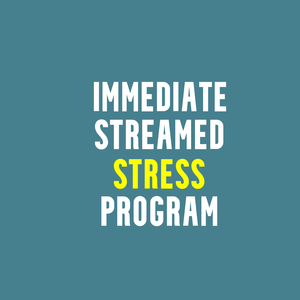 Stress Relief and Relaxation Program
What do you receive?  The Quick Look 
14 x structured sessions - yes, 14! (full length - nothing taken away!)
1 x Session of ambient music
A recommended listening schedule to maximise outcomes!
Immediate Streamed Version 
What is Stress? 
It seems a pretty straightforward question, but the answer is often difficult to quantify.  And that's because we are all different, and our tolerance and interpretation of stress are widely different too. 
The author of this program Michael Mahoney interprets stress as:   'When internal resources have been outstripped by internal or external demands, whether those demands are real or perceived.   
 Internal resources - energy - can be drained by life events, whether real or imagined.
Prolonged negative stress can make you ill, can bring disease, and lead to premature death. 
This program results from working with men, women, teens and children over many years. 
Stress Relief and Relaxation Audio Program aims to help you to manage stress effectively assisting in developing relaxation, and ultimately being able to manage stress rather than stress managing you.  
You were not born stressed you have learned to be stressed due to a whole number of reasons.  If you have learned to be stressed you can learn how to unstress!
==
This Stress Relief and Relaxation Audio Program 80 is structured with easy listening which could bring you positive results in your goal to improve your quality of life. Using hypnosis, relaxation, suggestion and imagery to bring a positive approach to stress relief.   
This immediate streamed version delivers a link to your phone/desktop/smart device and does away with MP3 downloads and synching. Though please click the link if you prefer MP3 downloads.
It is an aid that helps you to manage stress effectively. You were not born stressed you have learned to be stressed due to a whole raft of reasons.  If you have learned to be stressed you can learn something different!
Please take a few minutes to listen to the sound clips below, and then scroll down to see more about the structure of the program.
Sample Clips:   Session 1    Session 2    Session 3    Session 4    Session 5
14 x structured sessions and 1 x track of ambient music and suggested listening schedule.
Stress reduces the effectiveness of your immune system which can lead to both physical and emotional problems if not resolved.
Protecting your immune system is important, even more so in these very unusual times.  Long-term high stress levels are known to reduce the functioning and effectiveness of your immune system. 
In short, reducing your stress can help protect you from infection and disease.
According to recent statistics from the American Institute of stress 83% of US workers suffer from work-related stress! 
 Stress relief 
(All for a fraction of the price of one-to-one sessions, giving you huge savings)
The use of hypnosis works on the subconscious level to develop new positive coping mechanisms and reinforce existing positive inner resources.  It helps to achieve balance and harmony between the mind and the body, instilling relaxation to release tension and other physical symptoms;  while also helping more positive thoughts, feelings, and behaviours. 
Hypnosis is well known for helping reduce stress, anxiety, IBS, Insomnia and many many other symptoms of mind and body. 
Funnily enough, it is about Stress reduction, Stress management, developing relaxation and helping to develop new coping strategies.
Stress Relief and Relaxation Audio Program offers you options of choice, new considerations, and lots more besides, helping you to learn new positive ways of thinking and feeling.
Positive stress exists of course, and we want to retain its benefits. It is the negative area where our stress relief and relaxation program so often helps.
So what is special about our stress relief hypnosis program?  
Well, quite simply it's different. It has interlinked sessions which means it is structured, and with structure, new information, options, and considerations are more easily understood and retained.
Also, this stress relief hypnosis program uses a process called 'ongoing progressive session induction method' or OPSIM for short.
In the 1990s stress was defined as the Killer of the '90s and yet here we are in 2023, and still, we haven't mastered stress.  The demands of life are difficult enough without being burdened by un-needed stress!
 14 x structured interlinked tracks and 1 x track of ambient music.
Session 1: Commentary Introduction (approximate running time 20:29)
The mind and body connection are inseparably linked, they respond to internal and external stressors that may be real or perceived. The mind and body connection results in changes in our thoughts, feelings, and emotions. This introduction simply outlines this process, helping you to understand what is going on inside yourself, and gives a foundation which you to build upon.
You are encouraged to listen to this introductory session as a reminder and reinforcing process to help obtain maximum benefit from this program.
Session 2: Learning to Be More (approximate running time 17:54) 
This very gentle, easy-to-listen session is designed to encourage you to begin the process of taking part in your own healing. Learning and relearning to relax is the key to successfully managing stress. Taken from our confidence and self-esteem program, because it fits well into this program. 
Time taken here will help you to better understand the process and will pave the way for you to become much more aware of your ability to feel rested and relaxed and to expect those feelings to be with you more and more often.
Be quick our special price won't be around long!
Session 3: Moments of Relaxing Emotions ~ MORE (approximate

running time 20:38)
This session continues the process of developing relaxation and reducing stressors. Gentle imagery encourages you to release demands, stresses, and negative expectations while encouraging positive use of inner space. The process of unburdening allows for positive thoughts and considerations to be poured into space once filled with negatives.
Session 4: Letting Go (approximate running time 20:21)
This session brings awareness of how negative thoughts and expectations can resonate within us. The process used in this session will help you to take in gentle suggestions revealing to you that even though in the past you may have made progress and then perhaps faltered and returned to the familiar negative thought patterns, now you are different, now you are taking a different path, choosing a different way of moving on. You will be gently reminded that you now are doing something different and something structured, and being encouraged positively, and because of this, the outcome can be different.
Session 5: Each Moment (approximate running time 17:49)
This session encourages you to begin to use your new way of thinking to push back barriers and limitations which have held you back in the past. Acknowledging that there may have been times when you needed to rest, recover or simply remain still, but now recognizing that you can be more, much more! Now you are changing, feeling stronger, better, freer, and more in control.
Session 6: Reflection (approximate running time 15:33)
Those days when it perhaps felt you were uncertain where to turn, what to do and how to climb out of those difficult times are far in the past, the rungs of the emotional ladder are much closer together now, climbing higher into emotional well-being and general happiness is now much easier, life more enjoyable and thoughts more positive and sure.
Session 7: Confidence (approximate running time 20:07)
Confidence is not difficult to grow, you have to simply learn to trust yourself, to let yourself be in touch with your own awareness and understanding, and in touch with your innate ability to learn and relearn new ways of thinking and feeling. You are now learning to have renewed confidence in yourself and to know that you can and will achieve those things you want to achieve in a way that is gentle yet effective.
Session 8: Light of Consciousness (approximate running time 26:58)
This is a longer gentle session that encourages you to go deeper into relaxation using imagery and suggestion. Also, using colour with suggestions helps you to allow negative thoughts and expectations to dissolve and be replaced with further calm and positive thoughts and feelings. This session not only builds on the previous ones but helps to anchor in the learning so that you can be a more relaxed and balanced individual, and able to meet challenges more easily as mind and body work together.
Session 9: Parachute Time (approximate running time 20:56)
By encouraging you to let go of the negatives, this session uses the gentle imagery of drifting down slowly and quietly into relaxation as if beneath a large parachute of safety. You will be reminded that whatever needs to be changed in your life, can be changed and that you can let go of whatever needs to be released. You can embrace every positive emotion, recognizing that even negative emotions can provide learning and understanding too, and can then be released.
Session 10: Inner Universe (approximate running time 26:05)
This session encourages you to build an inner universe using metaphor to reinforce positive suggestions and learning. You will benefit from an abundance of pleasant imagery that will ease you gently into relaxation while you still move on and progress, by letting go of stress and demands and allowing negative thoughts and attitudes to drop away.
As you continue to move on in a positive way, you will be free to develop new positive thoughts, pathways, and ideas.
Session 11: Dilution of Negatives (approximate running time 21:31)
Using gentle guided imagery, this session encourages you to relax completely, broadening, and expanding this relaxation as it becomes more and more a part of you. Through the new relaxation, you will reduce stressors, anxieties, and negativity. You are guided by gentle imagery of clouds and sunshine which helps you to reinforce control in your life while letting go of burdens.
Session 12: Golden Threads (approximate running time 20:26)
Each negative thought is supported by memory and emotion. This session uses imagery and suggestions to release what is no longer needed while encouraging your new strong internal support system for keeping and enhancing positive thought patterns.
Session 13: Your Uniqueness (approximate running time 18:06)
We all have a place in life! In fact, we have many places we are meant to be, a place in relationships, socially, and in all aspects of our life. Wherever your journey in life takes you, there is a place for you. But you can also find better places because we don't have to be stuck, we are constantly changing and moving on. Your uniqueness is the key to success in any and all aspects of your life.
Session 14: Bridges to Cross (approximate running time 22:01)
A reflective session, which again uses imagery and metaphor to maximize the benefits of the journey you have made through this program, and in life. Problems have been overcome, released, and let go. Positives have been embraced; suggestions and ideas have helped you to find your way. You are building your own bridges to overcome problems, and your new resources help you to build more bridges, to greater success.
Session 15: Ambient music (approximate running time 31:10) Not included in the listening schedule
Be quick our special price won't be around long!
Let's work together to make things better!
Get your Program at our Sale price today!
* We reserve the right to withdraw or change discount levels without notification.
The Stress Relief and Relaxation Audio Program 80 - Immediate Streamed 2022 is the yin, to your yang. You've found what you're looking for.

Inventory Last Updated: Dec 08, 2023